Histoire du Tapis du Maroc _History of Morocco Carpets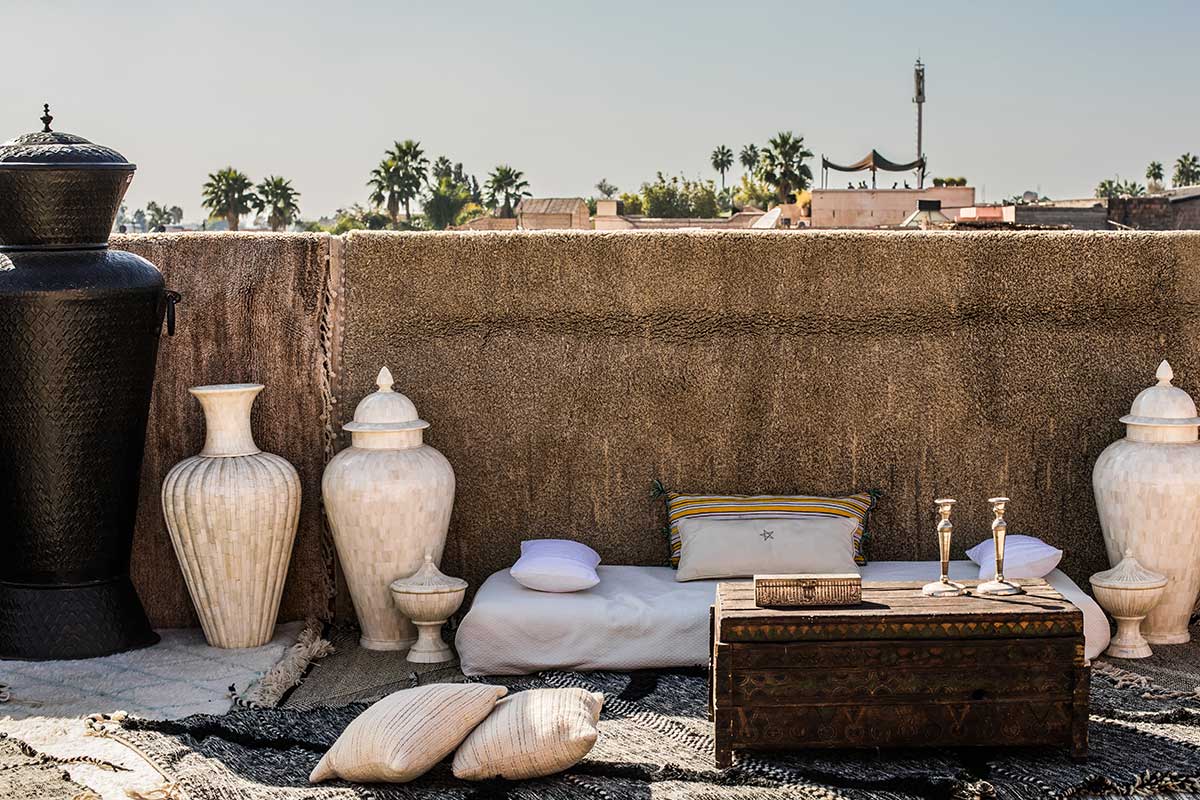 Jusqu'à très récemment encore, les femmes berbères apportaient, au jour du mariage, leurs propres métiers à tisser dans leur nouvelle maison. Noble tâche confiée aux épouses, la pratique du tissage est ancestrale. L'identité d'un tapis naît des mains de celle qui le fabrique. Il célébre les grands événements de sa vie et assure la principale source de revenus du foyer. De style primitif -les éléments particuliers sont des dessins géométriques et des couleurs terreuses-, le tapis berbère est le tapis marocain original. Le tapis arabe en est différent car il est influencé par les Andalous et Ottomans ; avec plus de motifs floraux, moins de références ancestrales, il est proche du tapis persan classique
Les tapis Beni Ouarain ou de M'rirt anciens datent des années 60-80 et proviennent des tribus berbères des régions éponymes du Moyen Atlas. Réputés pour leur laine dense, tissés sous le sceau du secret, à motifs souvent asymétriques, véritables chouchous pour leur blancheur éclatante, ils sont nommés "tapis rois" et considérés comme les plus prestigieux du Maroc. De laine courte, 100% naturelle, les tapis d'Azilal sont traditionnellement des pièces exclusives provenant de berbères du Haut Atlas au savoir-faire inimitable.
Les Hanbel, où Kilim en turc, sont dépourvus de velours car brodés au lieu d'être noués. Ces "tapis de ville" ont un graphisme particulier, identitaire des tribus, et différent du style oriental. Les kilims anciens sont des pièces uniques, dont le savoir-faire se perpétue aujourd'hui encore.
_Until recently, when getting married, tradition wanted that Berber women brought their own loom to the new home. It would serve for the ancestral practice of weaving, a noble task entrusted to wives. This is why a carpet finds its uniqueness in the hands of the woman who makes it. A part in celebrating the great events of her life, the skilled craft provided the main source of income for the family.
Primitive in style -the design is based on geometrical figures and earthy colors-, the Berber carpet is the original Moroccan carpet. The Arabic carpet differs, because largely influenced by Andalusian and Ottoman styles: showing more floral motifs and less ancestral references, it is close to the classic Persian carpet.
Beni Ouarain carpets or old M'rirt date from the 60s-80s and come from the Berber tribes of the eponymous regions of the Middle-Atlas. Renowned for their dense wool, woven under the seal of secrecy, often asymmetrical patterns, beloved for their dazzling whiteness, they are called "mats kings" and considered the most prestigious. Short wool, 100% natural, Azilal carpets is traditionally exclusive pieces from the Berber of the High-Atlas with inimitable know-how.
"Hanbel" in Moroccan, "Kilim" in Turkish, they are devoid of velvet because embroidered instead of knotted. These "city carpets" have their own tribal identity and their own graphic design, which sets them apart from the oriental style. The former kilims is one of a kind, the know-how of which continues today still.